Overview
At Sentinel Trust, Katherine is responsible for identifying and developing business prospects and strategic partners.
Katherine joined Sentinel Trust after almost a decade of experience in wealth management and business development.
Katherine is the Founder and President of Friendship Smile, a Houston based charity dedicated to fostering positive environments and opportunities for the social development of children born with cleft lip and palate.
Professional Background:
Vice President, Autumn Lane Advisors, Houston, TX (2016-2019)

Served as the outsourced Chief Investment Officer for four different families with total assets of approximately $500MM.
Developed and delivered financial planning services and investment advisory services to high-net-worth clients.
Screened, reviewed, recommended, and performed due diligence for alternative investments including: hedge funds, real estate, private equity, and venture capital.

Business Development Officer, Riveron Consulting, Houston, TX (2014-2015)

Advised clients on IPO readiness and preparation, quality of earnings assessments, financial planning and forecasting, and M&A integration.

Private Wealth Manager, Goldman Sachs, Houston, TX (2012-2014)

Built comprehensive wealth management plans for high-net-worth individuals and families.

Risk Manager, MBA Investment Fund, LLC, Austin, TX, (2010-2011)

One of sixteen students selected to actively manage value and growth long only equity portfolios.
Made decisions for consumer sector investments of a $13MM portfolio.

Energy and Industrials Research Manager, Gerson Lehrman Group, Austin, TX (2007-2011)

Designed, managed, and facilitated customized energy research solutions for financial analysts including: private equity, investment banking long only, and hedge funds.

Legislative Director for State Representative Pete Gallego (2007)

Established and executed legislative strategy relating to clean energy, healthcare, and local district issues.
Professional Organizations:
CFA Society of Houston, Member
IN THE COMMUNITY
Community Involvement:
Friendship Smile, Founder and President
INSIGHTS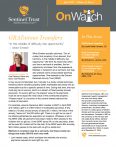 The latest edition of On Watch is now available for download. This issue features articles about creating and funding Grantor Retained Annuity Trusts (GRATs), making Roth IRA conversions in the current market environment, and using intrafamily loans in the current low interest rate environment. Contributors to this issue are Leslie Kiefer Amann, JD; Richard A….
Share
POSTED IN: Administration, Investments, On Watch, Planning
TAGGED: Administration, Corporate Trustee, Estate Planning, Gifting, GRATs, Interest Rates, Intrafamily Notes, Retirement, Roth IRA, Tax, Trustees, Wealth Management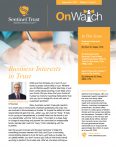 The latest edition of On Watch is now available for download. This issue features articles about holding and managing family business interests in trust, making air travel and airport security easier, and a special interview with our new Managing Director and Chief Investment Officer, Todd A. Burchett. Contributors to this issue are Ross W. Nager,…