Overview
David leads the delivery of investment, planning, fiduciary, administrative, and family office services to a select group of clients with a special interest in family foundations and family philanthropy.
Previously, David practiced as a tax accountant for six years at regional firms that managed the tax, audit, and general accounting needs of wealthy families and their closely held businesses. He then formed his own tax advisory firm to offer strategic advice and family office services before joining Sentinel Trust.
He is an instructor in Rice University's financial planning program and teaches income tax strategy to students sitting for the CERTIFIED FINANCIAL PLANNER™ exam.
Professional Background:
Managing Member, Smith & Zahn CPAs, PLLC, Houston, TX (2013–2014) – Managed a local public accounting firm to serve the tax and accounting needs of high-net-worth individuals and closely held businesses.
Tax Accountant, Carolyn Allen CPA, PC, Houston, TX (2010–2013)
Staff, Maddox, Thomson, & Associates, PC, Houston, TX (2009–2010)
Staff, Weinstein Spira & Company, PC, Houston, TX (2007–2010)
Professional Organizations:
Texas State Board of Public Accountancy, Member
Houston Estate & Financial Forum, Member
Houston Business & Estate Planning Council, Member
IN THE COMMUNITY
Community Involvement:
Rice University CFP® Certification Education Program, Instructor
Casa de Esperanza Young Professionals, Member
Young Catholic Professionals (YCP) Houston, Board Chairman
Knights of Columbus, Member
INSIGHTS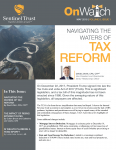 The latest edition of On Watch is now available for download. This issue features articles about navigating recent tax reform, the impact of rising interest rates, and wealth planning as a team sport.
In this issue:
"Total Return vs. Income-Oriented Return" by M. Taylor Scott, CFA
"Identity Theft Prevention & Mitigation" by Andrew B. Smith, JD
"Timing Can Be Everything" by David Zahn, CPA, CFP®
In this issue:
"Ten Due Diligence Questions for Private Equity Investors" by Dennis Montz, CFA, CAIA
"Choosing Your Retirement State" by Anne-Lise Wiegand, CPA, and David Zahn, CPA, CFP®
"Nurturing Family Togetherness" by Katherine J. Slater, JD