Overview
Anna supports the delivery of investment, planning, fiduciary, administrative, and family office needs. She is a member of Sentinel Trust's health insurance task force, helping clients gather the information they need to select the best health insurance policy for their needs.
She is active with her college and law school alumni networks serving the community and participates in trust and estate study groups locally.
Professional Background:
Client Services Intern, Sentinel Trust Company, LBA, Houston, TX (2013–2015) – Assisted the Client Services group by performing substantive research, executing administrative improvements, and aiding the delivery of select family office services to clients.
Professional Organizations:
State Bar of Texas, Member
Real Estate, Probate and Trust Law Section of the State Bar of Texas, Member
Houston Young Lawyers Association, Member
American Bar Association, Member
Young Lawyers Division of the American Bar Association, Member
Houston Estate & Financial Forum, Member
IN THE COMMUNITY
Community Involvement:
Texas Law Houston Young Alumni Steering Committee, Member
Texas Law Alumni Association Class of 2016 Committee, Member
Texas Exes, Life Member
Southern Methodist University Hilltop Society, Member
Alpha Chi Omega Houston Alumnae Chapter – Beta Zeta Beta, Executive Board Member
Houston Livestock Show and Rodeo, Commercial Exhibits Committeeman
TALKS
Talks:
Kids and Finance: A Discussion of Joline Godfrey's Raising Financially Fit Kids, Revised
INSIGHTS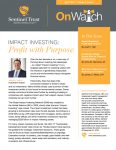 The latest edition of On Watch is now available for download. This issue features articles about impact investing, preparing college-bound kids for financial independence, and why your online account reporting is so dated. Contributors to this issue are Josh H. Hall, Anna M. Ziemnicki, JD, and James C. Reed, CFA. To receive email alerts about…