Overview
Catherine designs investment programs to protect and enhance multi-generational family wealth.
She creates asset allocations, oversees investment implementation, and delivers portfolio reviews to clients. Catherine specializes in families with complex investment holdings such as mineral rights and closely-held businesses. She works with relationship managers, accountants, and estate planners for a holistic approach to wealth management.
Her career began at a $10 billion endowment and has included work as an investment analyst and manager of a long/short event-driven strategy. She developed wealth education materials and led workshops for young women on basic financial planning and investing, topics that continue to inspire her work with next-generation Sentinel Trust clients.
Professional Background:
Portfolio Manager, Bergamot Capital (2010–2012) and Vaksam (2012–2013) – Responsibilities included managing a long/short event-driven strategy for a private investment partnership and a multifamily office. Specialized in complex situations such as spinoffs, bankruptcies, litigation, and mergers.
Research Analyst, MIT Investment Management Company (2009–2010) – Conducted research and due diligence for hedge fund, private equity, and real estate portfolios to aid manager selection and performance analysis for $10BN endowment.
Professional Organizations:
Houston Estate & Financial Forum, Member
CFA Society of Houston, Member
IN THE COMMUNITY
Community Involvement:
Personal Finance Educator – Developed curriculum for personal finance and investment education oriented toward women. Lead regular workshops and online forum of 3000+ active members.
100 Women in Hedge Funds, Philanthropy Board Member – Organized world's first conference on alternative investments and philanthropy with all proceeds to charity. Raised $250,000 for beneficiary from sponsorships and sold-out ticket sales.
TALKS
Talks:
"Portfolio Harmony: Balancing Your Asset Allocation and Portfolio Construction" – Panelist, Opal Family Office and Private Wealth Conference 2018
"The True Costs of Going Direct" – Institute for Private Investors Spring 2018 Forum
 "Fixed Income: Navigating Opportunities for Responsible Investors" – Opal Impact Investing Forum
"Mineral Rights: A Portfolio Perspective" – Institute for Private Investors Fall 2017 Forum
"Wealth Planning, Asset Protection, and Structuring for After-Risk, After-Tax Returns" – Panelist, Private Wealth Houston Forum
"Building Your Family Legacy" – TIGER 21 Texas Conference
"Maximizing Family Meetings: Teaching Our Children About Money" – TIGER 21 Texas Conference
"Cultivating the Next Generation of Women Leaders" – Panelist, Opal Women's Investment Management Leadership Summit
INSIGHTS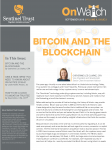 The latest edition of On Watch is now available for download. This issue features articles about blockchain technology, the role of a foundation trustee, and IRS guidance regarding miscellaneous itemized deductions. Contributors to this issue are Catherine Lee Clarke, CFA, David L. Zahn, CPA, CFP(R), and Leslie Kiefer Amann, JD. To receive email alerts about future issues…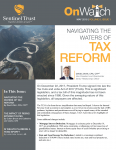 The latest edition of On Watch is now available for download. This issue features articles about navigating recent tax reform, the impact of rising interest rates, and wealth planning as a team sport.
In this issue:
"Performance Evaluation" by Catherine Lee Clarke, CFA
"To Freeze or Not to Freeze" by Andrew B. Smith, JD
"Trusting Your Blind Trust" by Andrew B. Smith, JD